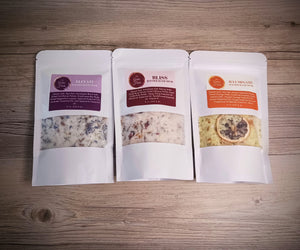 Bath Soak
Pain Ease Salve
Wax melts
Body Butters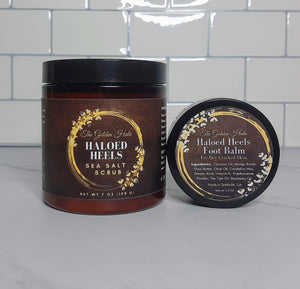 Soften those heels so you can feel light on your feet!
Did you know? Dead Sea Salt is almost ten times saltier than the salt in the ocean. One of the major benefits of using Dead Sea Salt is that it can exfoliate the skin and clear the pores. Our Haloed Heels Sea Salt Scrub has antifungal, and antibacterial natural properties which helps detoxify and soften rough skin.
Follow up with our Haloed Heels Foot Balm to help keep those heels feeling heavenly. With Vitamin E, Frankincense Powder, Tea Tree Essential Oil, Rosemary Essential Oil as additives, our balm promotes a speedy recovery of getting those heels together. Take care of your heels and get haloed!


Subscribe to our newsletter
Promotions, new products and sales. Directly to your inbox.